With the Super Bowl right around the corner, now is the time to plan for the most memorable and exciting celebration! From delicious appetizers to fun activities and games, we've got you covered with ideas that will help your Super Bowl party be a smashing success (even if the team you're rooting for doesn't win).
How to Throw the Best Super Bowl Party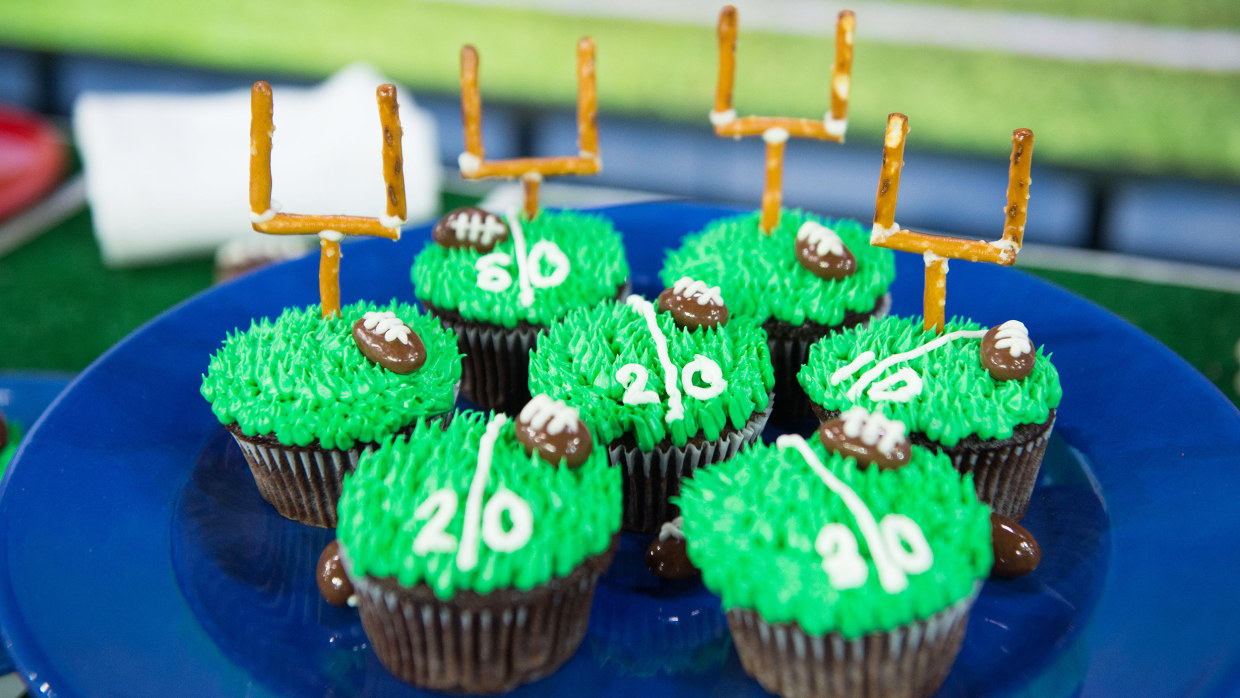 Be creative with the Super Bowl food
Most people would agree that eating good food while watching a football game is one of the greatest combinations, so it's crucial you have snacks that exceed everyone's expectations. Even if you already have a go-to appetizer, we dare you to try something new. And, if cooking isn't your thing, you're in luck with these simple yet yummy ideas! Consider ham and cheese sliders, mac and cheese pizza bites, cilantro-lime wings, queso cheese with pretzels, and jalapeño poppers — these are sure to keep everyone's tummies happy. You can also make a football-shaped cake or cupcakes to satisfy the crowd's sweet tooth. 
Play games during halftime
Whether you need to keep kids busy or you're searching for some halftime entertainment for all, games are one of the best ways to keep an entire group in a spirited mood. The classic game of bingo is always a hit, especially if you have some fun prizes for the winners — and, to take it up a notch, we suggest making your own Super Bowl-themed board! You can also create your own football-inspired Minute to Win it games for a more lively experience that will surely keep everyone laughing and in friendly competition.
Bring fun and unexpected activities for all ages
The activities that were not anticipated by your guests might arguably be the most important to ensure your party is a standout. This is where the expertise of Fun Productions comes into play. Check out some of our top football-themed activities that will leave your guests wishing your Super Bowl party had no end. 
This football ride adds a Super Bowl twist to the classic mechanical bull riding machine. See which of your friends can last the longest as the football twists and spins around! 
Test your football tossing skills and see if you can make your throws through the holes. This huge football toss is great for all ages and will keep all your competitive guests entertained.  
The electronic football toss keeps track of your points as you throw the football and hit the targets. Team up with someone or race against them to see who can hit the most targets and get the highest score. 
Kids and adults alike will have fun bouncing around in this sports arena, testing their arm strength, and seeing how hard they can throw. This inflatable sports arena comes equipped with a radar gun and a display that shows throwing speed. Plus, the football-themed backdrop is the perfect touch for your Super Bowl party. 
This virtual sports booth will make you feel like you're a player on the field. Practice playing football, soccer, baseball, hockey, and more. 
A classic table called billiards, snooker, or pocket billiards. 6 pockets, 15 balls & cue sticks make up a sports bar must have.
A mainstay of any good game room, the classic high speed slam the puck into the goal multiplayer game
Table tennis, also known as ping-pong, is a sport in which two or four players hit a lightweight ball back and forth across a table using small rackets.
Foosball Table
Table soccer. This fast paced multiplayer game is fun for all, be the high scorer with your little plastic soccer team
Let the Super Bowl Festivities Begin! 
Now that you have some ideas running through your mind for your Super Bowl party, make sure to check out all the party equipment we have to help you make this year's party the best one yet!